Happy Friday, everyone! Today, I'm excited to show you the project I've been working on for the friendly challenge with BożenA. As the one responsible for choosing the theme, I delved into my collection of scraps and found inspiration in the charming world of paper strips.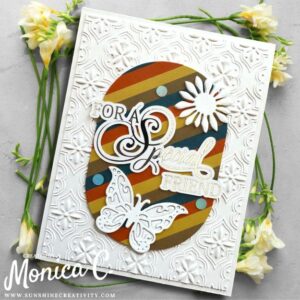 The point was not to do the whole background of the card in paper strips, but to rather have a different background for the card itself. I selected an embossing folder to add texture to the card panel, creating a perfect backdrop for the central focal point. The focal point, in this case, was an oval adorned with vibrant paper strips, providing a delightful burst of color against a predominantly white canvas.
The sentiment, "For a Special Friend," adds a heartfelt touch and is elegantly foiled in silver—a subtle yet striking detail. To complement the theme, delicate butterflies and flowers, cut with dies from my stash, adorn the colorful oval, adding a whimsical touch to the overall composition.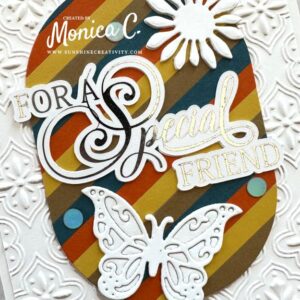 For a finishing touch, I added three hole-punch embellishments cut out of silver cardstock.
I'm eagerly anticipating BożenA's creation, and I invite you to hop over to her blog post to witness the magic. Don't forget to leave her a comment; your words of encouragement are always appreciated in the world of crafting.
In line with new European Data Protection Laws (GDPR) by commenting you know that your name and comment are visible to all who visit this blog and thereby consent to the use of your personal information for this specific purpose.
Many thanks for visiting and commenting on my blog!
Monica