I am delighted to share with you my final project for the Jan's Digital Stamp Shop Challenge Blog. Despite surpassing my initial six-month commitment, I have decided to resign from my position on the team after all. Embracing the theme of new beginnings, what better way to showcase this sentiment than through the creation of a New Year card?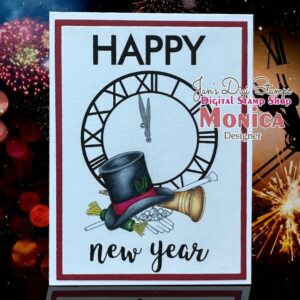 In creating this card, I used two digital images from the New Year Countdown stamp set. Placing the sentiment at both the top and bottom of my card design, I carefully edited each component to make a whole across the card. The central focal point of my composition is another digital image from the set. I printed the design onto Canson C a grain paper – my favorite paper for using with colored pencils.
I opted to do some spotlight coloring, choosing specific elements to color while leaving others untouched.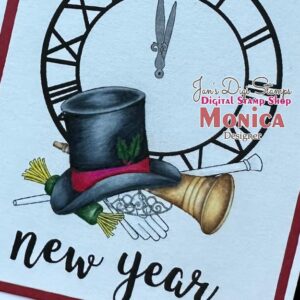 Upon the completion of the coloring process, I used a rectangle die to cut out the panel and proceeded to cut a larger matte from red cardstock. I joined the two panels, adhering them together before affixing them to a white cardbase.
I extend an invitation for you to participate in this month's challenge. With two weeks remaining for submissions, the theme is "Anything Goes." Notably, incorporating one of Jan's digital stamps not only qualifies your entry but also enhances your chances of winning a prize. I eagerly anticipate your creative contributions!
In line with new European Data Protection Laws (GDPR) by commenting you know that your name and comment are visible to all who visit this blog and thereby consent to the use of your personal information for this specific purpose.
Many thanks for visiting and commenting on my blog!
Monica